After learning you may benefit from hernia repair surgery, you might wonder how to choose the best hernia repair doctor. Though you may feel tempted to procrastinate or wait and see if your hernia goes away on its own, surgery is often the safest and most effective solution.
The Importance of Hernia Surgery
Hernias can develop in different areas of the body. The origin of the hernia is how doctors determine the type present. Hernias occur when a weakened portion of the surrounding muscular wall or connective tissue cannot support the organs or structures underneath.
Hernias occur when specific muscles become weak, causing organs to shift and move out of place. The most obvious signs are intermittent or persistent pain, swelling, or bulging. Hernias can become life-threatening without proper treatment. Surgery is typically the fastest treatment option but is dependent on hernia type and orientation.
Hernia Surgeon Experience and Credentials Matter
As the patient, it is up to you to choose the best hernia surgeon near you. Hernias are quite common and, in rare cases, may return after surgery. A highly qualified surgeon specializing in hernias can lower the chances of that happening. Get proactive about your care and outcome by reviewing this list of suggestions to aid your search for the best hernia surgeon near you.
Surgeon experience is essential. Highly qualified surgeons have credentials that prove they are the best in their field of expertise. When researching surgeons, check into their credentials. You can verify their credentials on the American Board of Surgery (ABS), American Board of Medical Specialties (ABMS), and American College of Surgeons (ACS) websites.
A positive track record is another critical factor to consider. Surgeons with many performed surgeries under their belts tend to have higher success rates. Their patients also experience better outcomes and fewer complications.
Many things can elevate a medical procedure's known and unknown risks, especially surgery. Therefore, choosing a medical professional with a track record of success is necessary. Doing so helps to ensure a positive patient experience and outcome. A surgeon who frequently performs hernia repairs several times a month or more is more experienced/qualified than one who only does them a few times a year.
Referrals and recommendations are a starting point. Go online and ask friends and family for recommendations. Research patient testimonials or reviews online and gather background information on each surgeon until you have a list of several to consider.
Before you commit to any particular doctor, schedule a consultation for them to review your situation and answer any questions or concerns you may have. This appointment is an essential step of the treatment process because it allows you to interview each surgeon to determine your comfort level with them. It also allows you to discuss and learn more about their skills and expertise to determine if they're the best choice for your situation.
Concerns to Address During the Interview/Consultation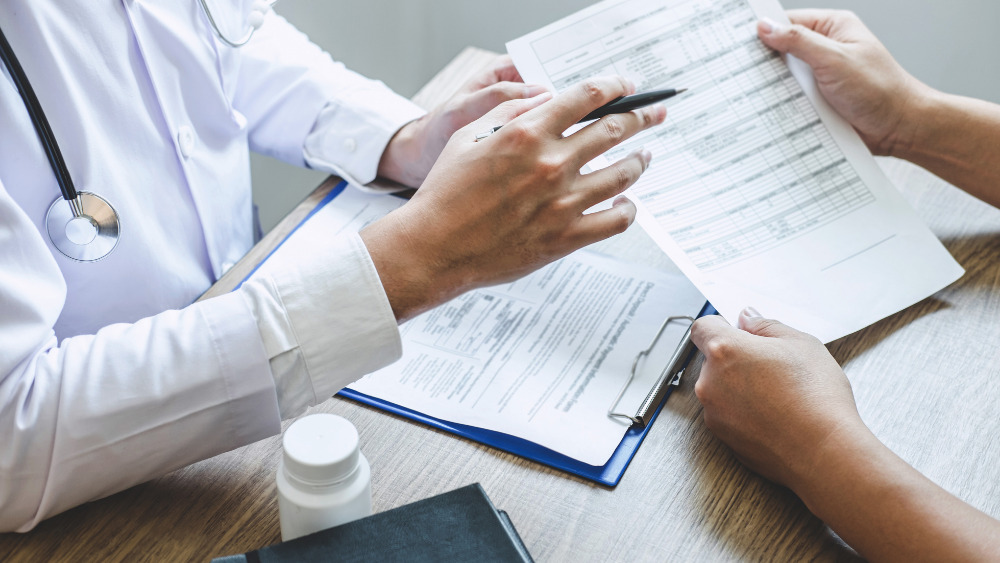 Surgery is a major medical event that does come with some risks to your overall health and life. Failure to take the time to choose the best-suited surgeon for your needs is hazardous and can lead to a poor outcome or additional issues.
Keep the following suggestions in mind when interviewing hernia surgeons near you.
Inquire about hernia repair options that are suitable for your condition. Be wary of professionals focused on open or traditional procedures over minimally invasive solutions. Open surgery is riskier than most minimally invasive and laparoscopic procedures. Remember, minimally invasive or laparoscopic hernia repair procedures are not ideal for everyone.
Ask for a brief explanation of each surgical option. Steer clear of surgeons who rush through explanations, overstate the benefits, or minimize risks or complication rates of any particular treatment option. Learn the success and complication rates for each procedure to determine the surgeon's credibility, which is often a good indicator of their commitment to quality and putting patients first instead of professional gain.
Inquire about their hospital affiliations. Surgeons who see and treat patients at reputable hospitals and medical facilities are more likely to have the skills, credentials, and reputation that reflect their ability to perform successful operations.
Take notes so you can perform research to verify the information you receive and make the most beneficial decision for your needs.
When it comes to surgery, especially for hernia repair, don't choose some random surgeon you may have never heard of. Nor should you choose recommendations without thoroughly vetting them. Reputation counts too! You are entrusting your life to the surgeon who performs your surgery. So make sure you screen hernia surgeons near you carefully.
The Best Hernia Surgeon in Orange County
At Orange County Robotic General Surgery, we understand how daunting it may seem to find the right doctor to perform your hernia repair procedure. We encourage you to visit our website and check out social media channels to learn more about us. We are committed to minimizing patient pain and trauma to improve health and outcome.
Dr. Abtin Khosravi, M.D., is an international hernia repair and abdominal wall reconstruction, specialist. He regularly uses advanced, minimally invasive, and traditional techniques to correct flank, inguinal, umbilical, medium, massive, weight loss, and incisional hernias.
To find out if inguinal hernia repair surgery is right for you, Contact Orange County General Robotic Surgery at (714) 706-1257 for a consultation with Dr. Abtin H. Khosravi.